Pillsbury Early Education Center is an accredited learning center with a history of ensuring children are prepared for kindergarten. The arts-integrated learning program offers a wide range of activities designed to spark curiosity and creativity, and build learning confidence. Our approach is culturally diverse and attentive to the individual and distinct needs of each child. Our caring, licensed staff has advanced training in early education, and decades of experience in the field.
The center is located within Pillsbury House + Theatre, which provides families with a unique opportunity to access a variety of services, activities and events in the same location as their childcare center. Once PEEC students reach school age, families have the option of enrolling children in Pillsbury House + Theatre's summer and after school programs.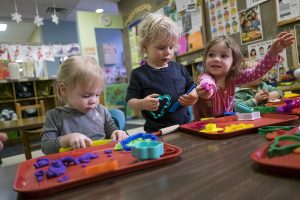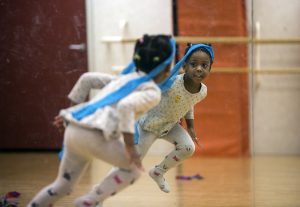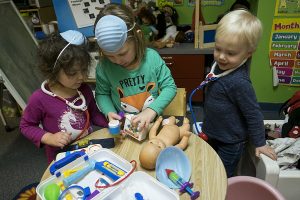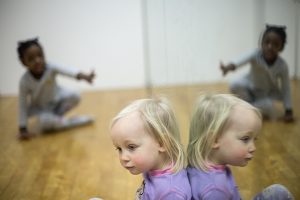 Our program
Extended Hours: 6:30 a.m. – 5:45 p.m., Monday-Friday
Fees/Rates:
Starting September 1, 2019, our rates will increase to $300.00 per week for preschoolers aged 3-5 yrs and to $310.00 per week for toddlers aged 16 months-3 years.
We accept Child Care Assistance through Hennepin and Ramsey Counties. We do not offer a sliding fee scale at this time.
After September 1, 2019, we will have openings in both the preschool and toddler rooms. Please contact Tammy Lyon at 612-787-3648 or tammyl@pillsburyunited.org for more information.
Low staff-to-child ratios
Pillsbury Early Education Center is NAEYC accredited, and has received MN Parent Aware's highest, 4 Star rating.
Our approach
Culturally responsive instruction that acknowledges, responds to, and celebrates diversity and difference
Art-integrated learning that combines visual arts, dance, drama and movement into everyday learning activities
Developmentally-appropriate curriculum and activities to expand language development and build strong beginning literacy and math skills
 Lessons that expose learners to Spanish and American Sign Language
Our teachers
Our highly qualified team includes Ms. Charlene, our lead preschool teacher, and Ms. Soraida, our lead toddler teacher.
Pillsbury House + Theatre's local artists work alongside teachers to foster growth and development through dance and drama classes that compliment children's learning experiences.