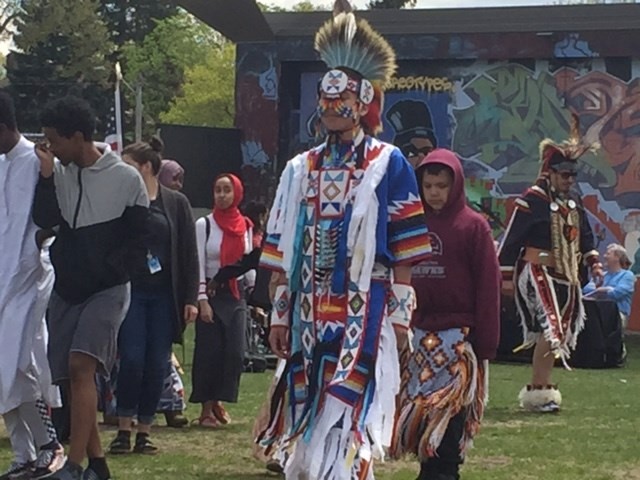 One of our social enterprises in South Minneapolis, KRSM Radio, is a platform for voices not often present in traditional media. That includes youth. Student-Powered Radio, a show done in partnership with students and teachers in Middle and High School around South Minneapolis, was created to bring these voices and stories to the air.
On June 12th, one large project that our Youth Media Coordinator, Michel B., has been working on was released to the airwaves. Via Student-Powered Radio, listeners were able to hear 9 recordings made by the All Nations Program in South High School. Students talked about everything from video games and music to historical trauma, community healing, and relatives who they've lost to the opioid epidemic. Plus, Michel interviewed the program's lead teacher and recorded the Pow Wow the students led on South High's field (including the moment the graduating seniors are presented with their eagle feathers!).
Though the program has already aired, we will have the recordings available on our website soon. Check back here for updates.
KRSM is a low-power FM radio station based out of the Phillips neighborhood in South Minneapolis. Broadcasting at 98.9 FM, this is a hyper-local platform for amplifying the voices, stories, cultures, and conversations happening in our neighborhoods. Our focus is on communities that are marginalized, misrepresented, and erased by traditional media. For example, our schedule features shows in 6 different languages (English, Spanish, Somali, Ojibwe, Hmong, and Haitian Creole), and we air 10 hours of programming each week by Indigenous hosts.