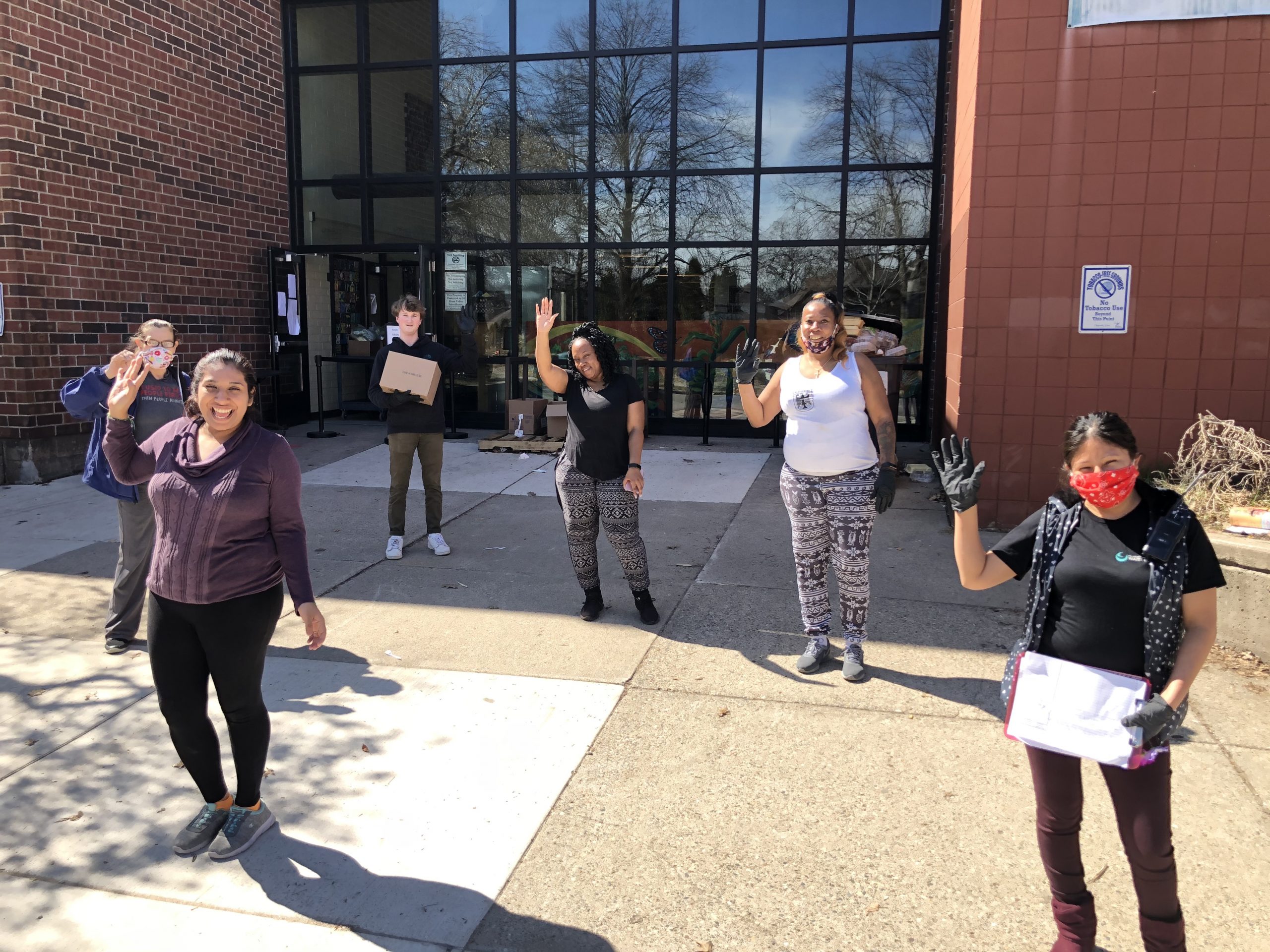 Wanting to show up for community right now, but not sure how? In addition to a financial contribution to groups that are providing emergency relief services, here are some other ways you can support our communities in these times of social distancing.
1. Make masks for our essential service workers and community members. Our emergency food and childcare teams are working hard on the front lines to provide needed services to Minneapolis families. In less than a month, our food programs have distributed almost 100,000 pounds of food to more than 1,000 families! But, as with others engaging in front-line work, we are always in need of of face masks to ensure the safety of our team. Not only that, but many of the folks coming for services are also facing difficulty accessing masks, something we'd like to assist with! If you have some extra time on your hands and want to hone some craft skills, consider making homemade face masks for our direct service workers and neighbors. Contact Kim with questions and/or to arrange delivery: KimP@pillsburyunited.org, 612-302-3499.
2. Call in to KRSM Radio. Though we are distancing physically, KRSM Radio is working hard to keep content fresh and to keep folks connected over the airwaves. You can call 612-208-3808 and leave a message for KRSM to share with the community. Tell us about how you've been finding joy in these strange times; give a recipe to try; sing a song or recite a poem; share great resources available in your neighborhood; or just tell us how you're holding up. Let your neighbors, friends, and family hear your voice!
3. Clean out your closets for Sisterhood. Feel like doing some spring cleaning while you're stuck inside? We encourage you to take a look at your clothing closet! Located in the Cedar Riverside neighborhood, Sisterhood Boutique is our gently-used clothing store that doubles as a youth social enterprise. They are always looking for clothing, shoes, and accessory donations (again, gently used please!) to add to their merchandise. So though you might not be able to make the physical hand-off until the shelter-in-place order is lifted, you can feel good knocking out this project ahead of time. Your (future) donation helps fuel a program that equips young East African women leaders with tools and skills for school, life, and more.
4. Shop at North Market. We all still have groceries to get and certainly have a lot of options from where to get them. Consider trying out our nonprofit grocery store, North Market, if you haven't had a chance yet. It's not only a full-service grocery store, but also a center for wellness services and a community gathering place in Minneapolis' Camden neighborhood. It is important to note that they are taking several measures to ensure the safety of their shoppers in light of COVID-19 as well. (Plus, did you know that you can get 50% off all fresh produce EVERY Wednesday!?) Your shopping dollars help support this long sought after community food resource.
5. Read and share North News. Quality journalism doesn't stop in the middle of a pandemic. With some extra time on your hands, grab a cup of coffee and settle in to read our Northside print (& online!) newspaper, North News. A truly community-based media outlet, North News prides itself on telling the whole stories and truths of Minneapolis' Northside, not just the one-dimensional narratives often showcased in mainstream media. Like what you're reading? Share it with your friends and family, and consider signing up to get a copy of the paper delivered to your doorstep each month.
6. Complete the census! Everything happening now is a reminder that our communities are in need of more resources. But did you know that those resources are often allocated based on population numbers from the census? Yep, even for recovery efforts in a crisis such as this. Not to mention housing assistance, school meals, SNAP, WIC, and so on. We only get the appropriate amount of resources if we are counted. We only get adequate political representation if we are counted. If you haven't already, please take 5 minutes and complete the census today. This is a simple action with significant repercussions. Count your household today and encourage those you know and love to get counted as well.
7. Make a monthly gift. A financial gift is one of the best ways you can support our work during these uncertain times—and one of the best ways to support us financially is by becoming a monthly donor. We know that this will be a long-term struggle. Even after the crisis has passed, our communities will be living with the economic impacts for years to come. Help us continue showing up by signing up for a monthly gift. For as little as $5 per month, you can become part of a circle of grassroots supporters who are enabling all of our vital efforts in community.
Now more than ever, we know that no matter where we go from here, we go together. Thank you for showing up for our communities.