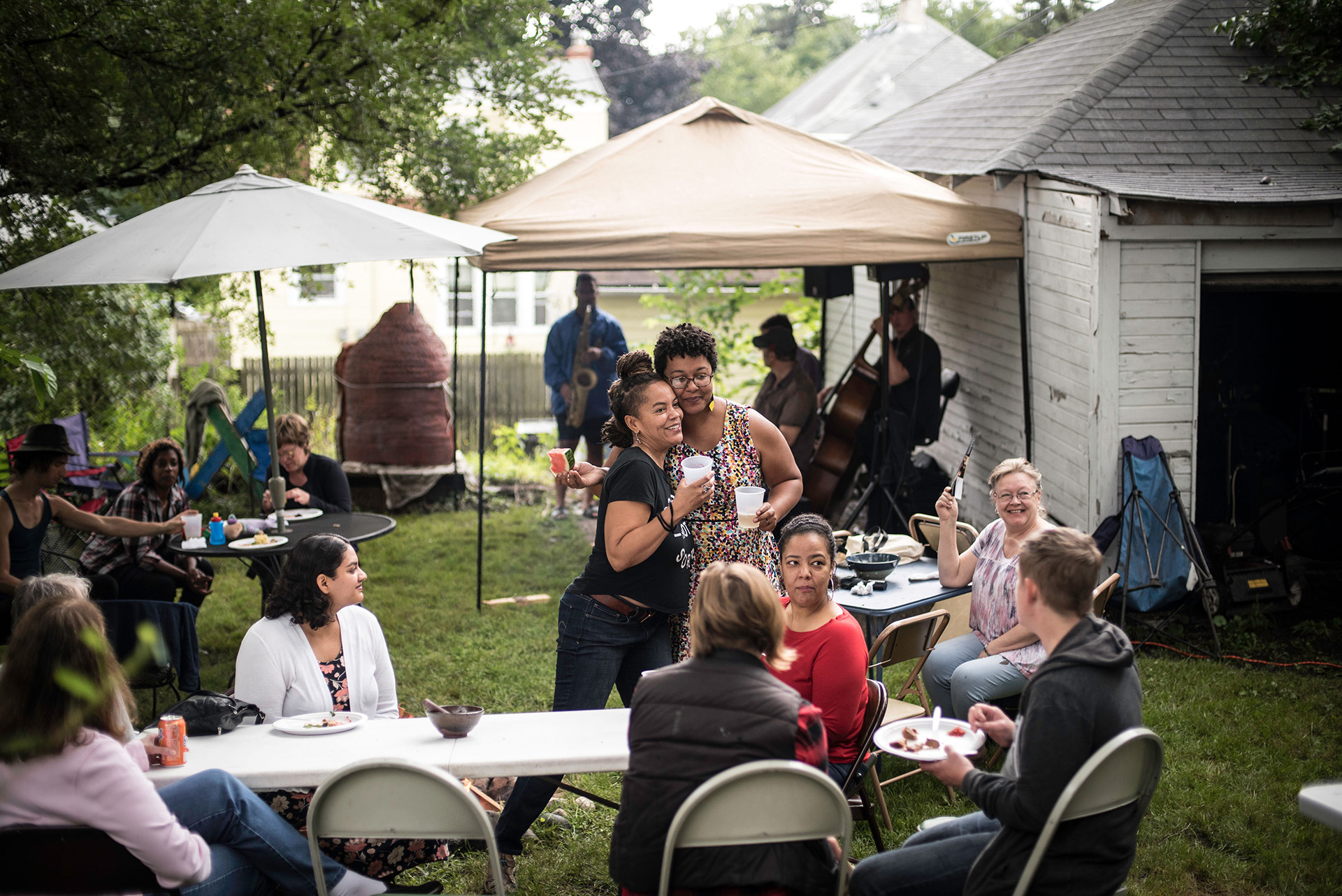 ART BLOCKS, an initiative launched in 2013 by Pillsbury House + Theatre, aims to make the rich artist ecology found in neighborhoods visible to everyone and provide opportunities for artists and communities to make and experience art together. In 2022, the project expanded to include each neighborhood served by Pillsbury United Communities. The project focuses on community safety and wellbeing and seeks to engage people in proximity to support each other and deepen connections through the creativity of artists. ART BLOCKS aims to increase community connection, vitality, and safety through 'creative place keeping.' 
Several community events were held at Waite House to promote community safety and togetherness. Sarah M. Greer hosted two music events in her front yard, while Shelly Rainey conducted a beading class and provided sage bundles to her students. Tamales y Biciletas collaborated with various artists, co-hosted community safety conversations and quilt square creations, which resulted in beautiful quilts that were shared throughout the community. 
Four individuals from Brian Coyle – Ifrah Mansour, Hamza Noor, Binyam Raba, and Mohamed Salad – have taken steps to promote community safety and engagement in their Minneapolis neighborhood. Ifrah created a Somali hut in Currie Park for kids to engage in activities and learn about co-creating safe communities. Hamza took photographs of Cedar Riverside youth and edited their backgrounds to showcase their family's heritage, while Binyam painted a large picture of the Lowry Bridge with the Oromo flag to celebrate the Oromo Community Center's anniversary. Mohamed created a scavenger hunt to encourage children to explore their community, and their pictures were used as conversation pieces to promote community love and communication. 
At Pillsbury House + Theatre, Joseph Bard combined hip hop and martial arts to create a safe space for young scholars, while Bayou Bay created a game day at his studio installation to bring his neighbors together. Mankwe Ndosi and Phyllis held an event called "Neighborhood Medicine" to bring people together and teach them about wild medicine, while Con Rice created flags representing the Black diaspora to heighten the visibility of his community. Fernanda Sequeiros created a conversation box called "Spoons that Nourish" to bring people together over a simple meal and foster connections among neighbors.  
North Side artists created initiatives such as a Halloween "Fest," an art-making day, a spoken-word performance, and a summer of community events. Participants in these events describe community safety as involving relationships and connections among neighbors, access to resources and equitable opportunities, and a sense of trust and openness in the community.  
To learn more about this community creative initiative read this booklet created by Mike Hoyt – Creative Community Liaison at Pillsbury House + Theatre.