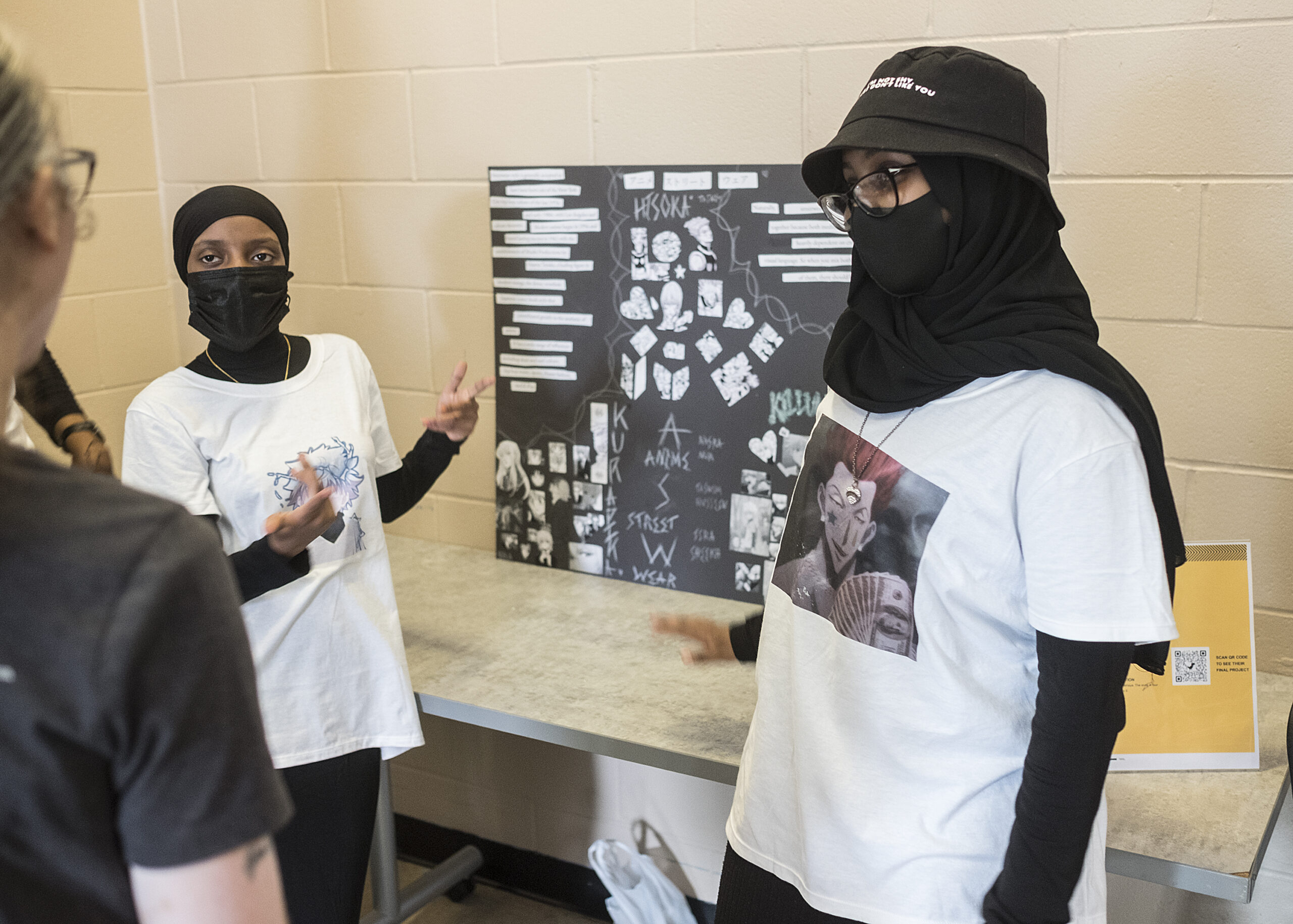 For Pillsbury United Communities, 2021 was a summer to remember! After last year's summer programs were forced to operate remotely due to COVID-19, we were so pleased to reconnect with our young folks in-person for summer 2021.
This year, 145 young people in middle school and high school completed paid summer internships through Pillsbury United programs—our largest ever class of interns! Our young folks explored new opportunities in technology, business, media production, and more. (For photos from some of our summer activities, take a look at a couple of recent albums on our Facebook page.)
Read on to learn more about our summer internship cohorts—and the dedicated youth program leaders who made it all possible.
Amplified Youth Storytelling at Brian Coyle Center
Our Amplified Youth Storytelling cohort was based out of the Best Buy Teen Tech Center at Brian Coyle Center. Under the guidance of our experienced youth mentors, 16 interns learned audio production and podcasting skills. Special thanks to The Clubhouse Network and the city of Minneapolis' Step Up program for partnering with us to offer this unique opportunity.
This cohort was led by Emery and Jose. Emery recently completed his term with Public Allies Twin Cities, through which he served as Content Specialist at the Teen Tech Center. Jose also works with our Coyle youth programs as our Pathways Coordinator, helping young people plan for college and a career.
Arts & Agriculture at Waite House
Our Arts & Agriculture youth group at Waite House led 12 interns in exploring the intersections of food, art, culture, and social justice—connecting to the land by working hands-on at our Pillsbury United Farms, and sharing their experience through the visual and performing arts.
Our cohort leaders were Angelica and Ebony—both artists and activists. Angelica is a performance artist who has previously led our youth spoken-word and tutoring groups. Ebony is a visual artist and an alumna of our youth programs, returning to Pillsbury United this summer after graduating from Clark Atlanta University.
Cinematography & Business at Brian Coyle Center
Based out of the Best Buy Teen Tech Center at Brian Coyle Center, our Cinematography & Business cohort provided opportunities for 16 interns to explore filmmaking, editing, scoring, and sound design—while also learning to make a business plan to support their activities as independent artists and creators. The cohort also participated in a site-visit to the Institute of Production and Recording to learn from working professionals in the field of media production.
The cohort was led by Gonkama and Sisco, two youth leaders who are deeply rooted in the Cedar Riverside community. Gonkama is a seasoned youth worker and recent IT grad with experience in hip-hop production. Sisco is a graduate of our Coyle youth programs and a professional filmmaker and photographer.
Cyber Seniors at Brian Coyle Center
This unique cohort focused on intergenerational engagement between young folks and community elders living in Cedar Riverside. Our six youth interns partnered with volunteers from Best Buy to work with Cedar Riverside community elders and assist them with technical support. Through twice-weekly clinics at Currie Park in English, Somali, and Oromo, these young folks stepped up—helping our elders install apps, configure webcams, and other essential tools to stay connected in the post-COVID world.
Our cohort was led by Hassan and Kenya, two very talented undergrads. Hassan joined us this summer after many years of participation in youth programs at Brian Coyle Center. Kenya was brought on through the ServeMinnesota emergency response program.
Girls & Femmes in STEM at Brian Coyle Center
Our Girls & Femmes in STEM cohort at Brian Coyle Center offered a unique eight-week course in a variety of science and technology-related topics, including astronomy, coding, biodiversity, food science, medicine, and digital art. Our cohort members also took part in a biodiversity field trip to Cedar Creek with a University of Minnesota professor, tested the new flight simulator at the Best Buy Teen Center, and participated in Scrubs Camp at Augsburg University.
The cohort was led by Idil and Fardowza, both of whom are studying STEM fields at the University of Minnesota. Idil is a Page Scholar, and she is currently majoring in microbiology and cell biology. Fardowza is a graduate of Sisterhood Boutique, majoring in computer science.
Healthy Living at Waite House
Young folks in our summer Healthy Living cohort at Waite House enjoyed a wide range of activities to support their physical and mental health. This included cycling and bike maintenance with Bici Xicas, a local biking collective; group therapy sessions, in partnership with counselors at Tubman; and tennis at Fred Wells Tennis & Education Center at Fort Snelling.
This cohort was led by Ivonne, a senior at Augsburg University studying political science and an alumna of our youth programs at Pillsbury House + Theatre. Ivonne also managed our 22 off-site interns, including partnerships with Roots for the Home Team and the Minnesota Landscape Arboretum's Growing Good program.
KRSM Radio
Our biggest cohort of the summer was at KRSM Radio, broadcasting out of Waite House in the Phillips community. Our interns explored on-air hosting, radio DJing, journalism, and audio production in our brand new youth recording studio. KRSM also partnered with ThreeSixty Journalism, MPR News and MIGIZI to plan and engage BIPOC youth for MPR's Radio Camp. Click here to see some of their finished projects.
Our cohort was led by Michel.Be, a professional DJ, our agency-wide youth media manager, and a longtime alum of our youth programs at Pillsbury House + Theatre. They were supported by Minneapolis Community Education, who offered a full-time staff coordinator to assist with facilitating this summer's internships—our thanks to KJ for their invaluable assistance!
Sisterhood Boutique
Based out of the Cedar Riverside community, our team at Sisterhood Boutique led a cohort of 24 young women—giving them direct experience in managing a fashion consignment boutique, plus ongoing development of their business and leadership skills. Highlights include a site-visit to local apparel brand sota clothing, as well as a week at Augsburg University Scrubs Camp.
The cohort was led by a trio of long-time Sisterhood Boutique leaders and alumni. Zikki is a co-founder of Sisterhood from its very first class, and Kidist is a former Sisterhood intern; both are now leading programs at Sisterhood. Ugbad is a Sisterhood grad and currently an undergrad in phlebotomy at the U of M—a passion she discovered on a Sisterhood field trip.