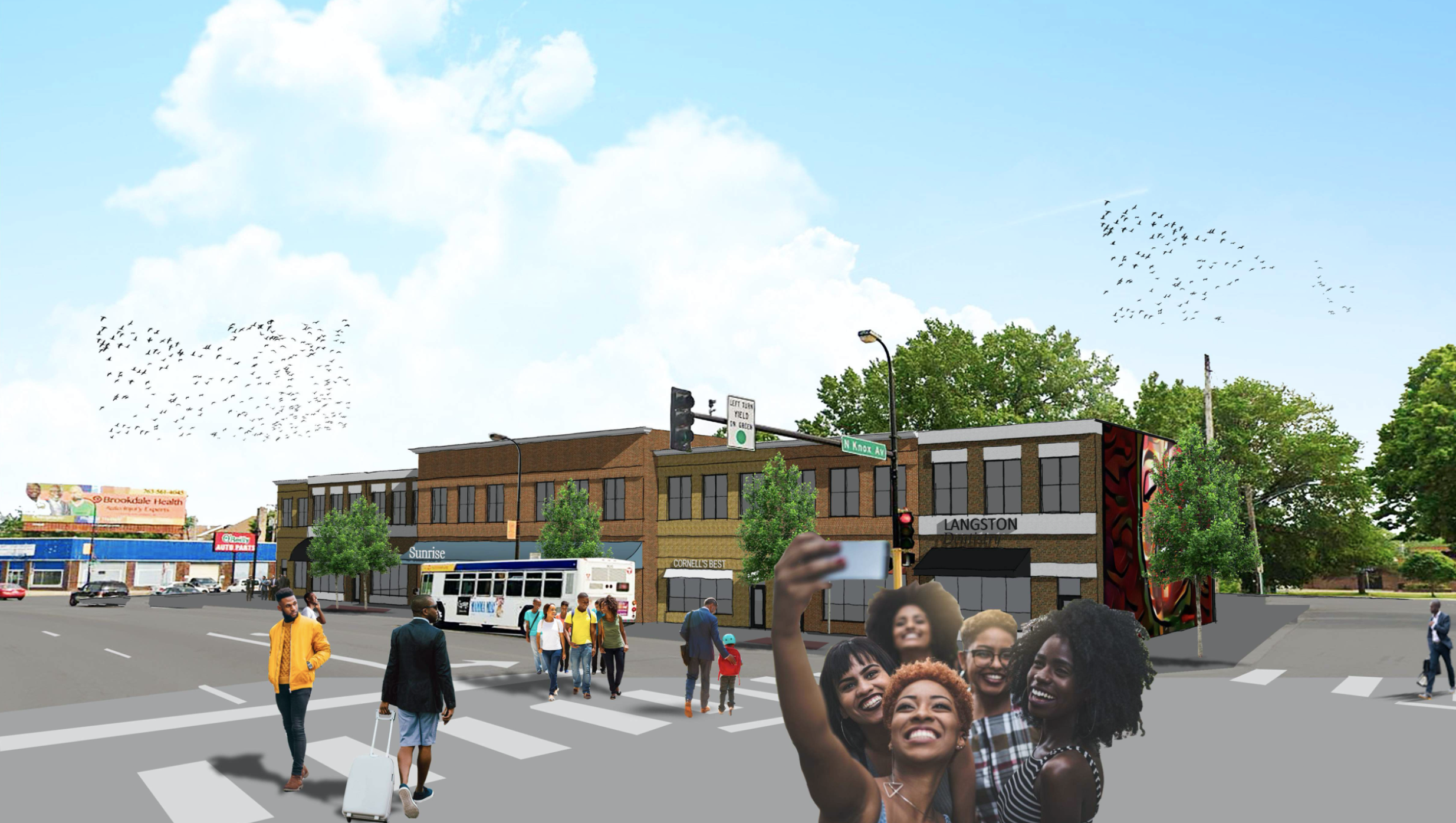 MINNEAPOLIS, Minn. (May 25, 2021) – Pillsbury United Communities (Pillsbury United), an agency with a 140-year legacy of recognizing and amplifying the assets and aspirations of the communities living in historically underinvested neighborhoods across Minneapolis, today announced the launch of the Justice Built Communities (JBC) initiative. JBC will leverage land, labor, entrepreneurship and capital to build equitable economic development for Black residents across the region starting in north Minneapolis. The initiative will be powered by a network of regional and neighborhood partners.
As a first step, JBC will purchase vacant land, buildings, and other disused properties for neighborhood redevelopment. It closed on its first property earlier this month when it purchased the old O'Reilly Auto Parts property at 1601 and 1625 West Broadway along with the adjacent property at 1622 Golden Valley Road, Minneapolis. JBC will use a community-centered design process to inform the redevelopment plans, which will provide opportunities, guidance and financial support to help local, Black-owned enterprises get established and grow. Over time, JBC will bridge land ownership back to local entrepreneurs to build generational wealth.
Pillsbury United has already raised $6 million for the JBC startup fund and intends to raise an additional $14 million through philanthropy and program/mission-related related investments by end of year for acquisition of neglected properties and pre-development capital. Initial investors include US Bank Foundation, Bank of America, GHR Foundation, Margaret A Cargill Fund of the Minneapolis Foundation, Target Foundation, Opus Foundation and Otto Bremer Trust. A variety of innovative financial structures including debt, equity, and NMTC will be used for project-specific development costs.
The initiative's work will be co-designed and developed through Northside business and neighborhood associations including Folwell Neighborhood Association, Jordan Area Community Council, Hawthorne Neighborhood Council, and West Broadway Business and Area Coalition. Local artists will be engaged to beautify the areas before, during and after projects break ground. As properties are developed, Black entrepreneurs step in and take over: bringing goods and services to local residents, job opportunities to youth and adults, and prosperity to families.
"Our mission is to create a just society where every person has personal, social and economic power," said Adair Mosley, President & CEO of Pillsbury United Communities. "The disruptive forces of 2020 showed the inequity of a system built on racist policies and practices as well as the need to act with urgency to equitably rebuild. JBC will prioritize strategies that ensure the people who were part of the history of our communities are also part of the future. We envision thriving commercial nodes anchored by local businesses and green spaces, safe and stable neighborhoods, and meaningful work and wealth-building opportunities that close racial disparities."
Minnesota's Black residents face the worst economic disparities in the nation. Minnesota ranks at the bottom for racial gaps in high school graduation, homeownership and household income. These inequities have been concentrated on Minneapolis's Northside by decades of systemic disinvestment.
"Today we see the impact of inequitable development in North Loop, a Northside neighborhood adjacent to downtown," said Jimmy Loyd who serves as Senior Director of Community Development at Pillsbury United. "While real estate activity in North has largely been stagnant, North Loop has seen $1.2B in real estate sales since 2015. That's created rapid gentrification on the edges of North, and now this boom encroaches deeper into the neighborhood. As properties along Plymouth Avenue and other major corridors are bought up, vulnerable residents are threatened by displacement as outsiders benefit. JBC aims to reverse this concerning trend and support Northside neighborhoods' vision for their own future."
Learn more at justicebuiltcommunities.org.
About Pillsbury United Communities
Pillsbury United builds community by co-creating enduring change toward a just society where every person has personal, social, and economic power. Its united system of programs, neighborhood centers, social enterprises, and partnerships connects individuals and their families across the region. Program areas include community health, food accessibility, family stabilization, creative placemaking, community voice, civic engagement, education, career and future readiness, and economic mobility.
Pillsbury United serves the Black, Brown, Indigenous, immigrant, and working-class residents of Minneapolis striving to build better lives and communities for their families in spite of racism, poverty, and other systemic barriers. Priority neighborhoods include Cedar Riverside, Phillips, and Powderhorn in South Minneapolis and Near North and Webber-Camden in North Minneapolis.