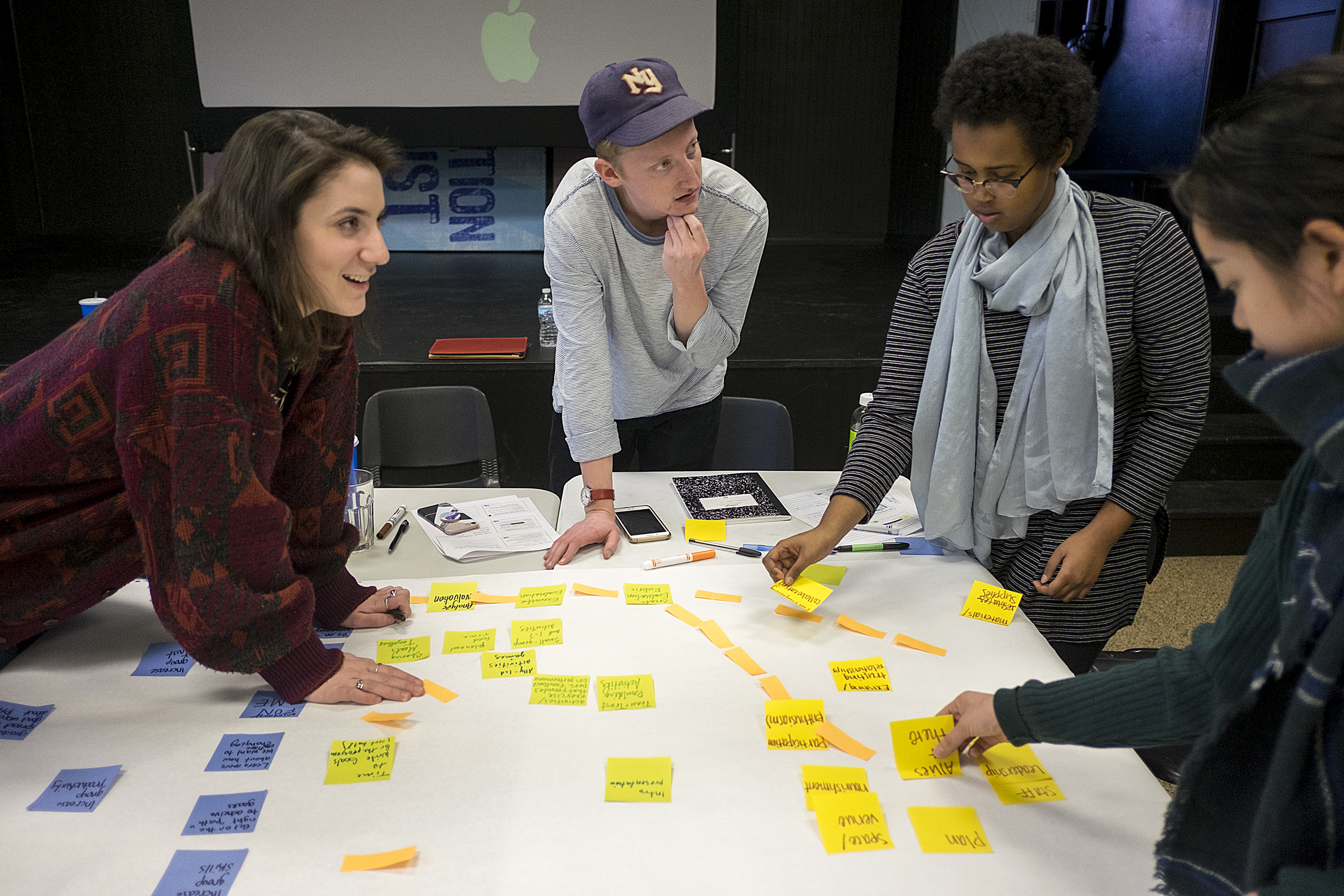 Earlier this month, Twin Cities Public Allies gathered at Oak Park Center to participate in Core Week. Public Allies is a 10-month Americorps apprenticeship program that focuses on advancing social justice and equity by teaching allies about leadership and placing them in key operational roles at a wide range of partner organizations throughout the Twin Cities nonprofit sector. For new and returning allies, Core Week offers the chance to explore the values of the Public Allies program through a variety of culture-building activities that exercise their creativity and empathy. It is a time for allies to connect, reflect, and build.
Ashlyn Stenberg is one of several new Public Allies cohort members; Core Week was her first week with the program. Ashlyn is serving as a communication system specialist at the Wilder Foundation, providing administrative support for a variety of projects focused on racial equity and community outreach. Although she was not sure what to expect with many of the high-energy culture-building activities, she says that by the end of Core Week, "[The experience has] already paid off. I'm seeing the benefit of putting myself out there in these spaces." Ultimately, Ashlyn hopes that Public Allies can help her develop new opportunities that utilize her interest in health equity issues.
Roda Abda, also new to Public Allies, is serving as an operations manager at Twin Cities RISE, where she is assisting with project management and communications for a major upcoming event. After a period of trying to determine her next steps in life, Roda says that she was encouraged to apply by an acquaintance who had already completed the program. "I hope to become a strong communicator and learn to assert myself during my time as an ally," she says.
Another new ally, Colton Taylor, was placed at Senior Community Services as a home program coordinator. In this role, his job is to recruit, organize, and manage volunteers who assist seniors with a wide range of day-to-day tasks. Like many young people in the program, Colton is eager to explore different post-college options during his time with Public Allies. "I graduated not knowing exactly what I wanted to do," he says, "and I'm hoping [Public Allies] can help me get a clearer sense of what my career is going to be."
Now that Core Week has come to an end, the hard work is only beginning. As our new cohort members begin their 10-month journey with Public Allies, the energy and enthusiasm of Core Week reminds us all that real learning happens when young people feel empowered to break out of their comfort zones.