Donate for a chance to win a one-of-a-kind Surly Midnight Special!
Thanks to our friends at Surly, you have the chance to win a one-of-a-kind custom Midnight Special when you make a donation to support Full Cycle, a bike shop and so much more
How it Works
Enter to win by making a donation below to Full Cycle Bike Shop by December 1st, 2021. Every $5 you toss in the hat gets you an entry to win the bike. Feel like donating more? You get more entries and Full Cycle helps more folks!
Bigger Picture
All funds raised will go directly to Full Cycle to help them feed and support unhoused youth. If you're unable to make a donation, you can still enter to win by snail-mailing a post card to Full Cycle. See Contest Rules.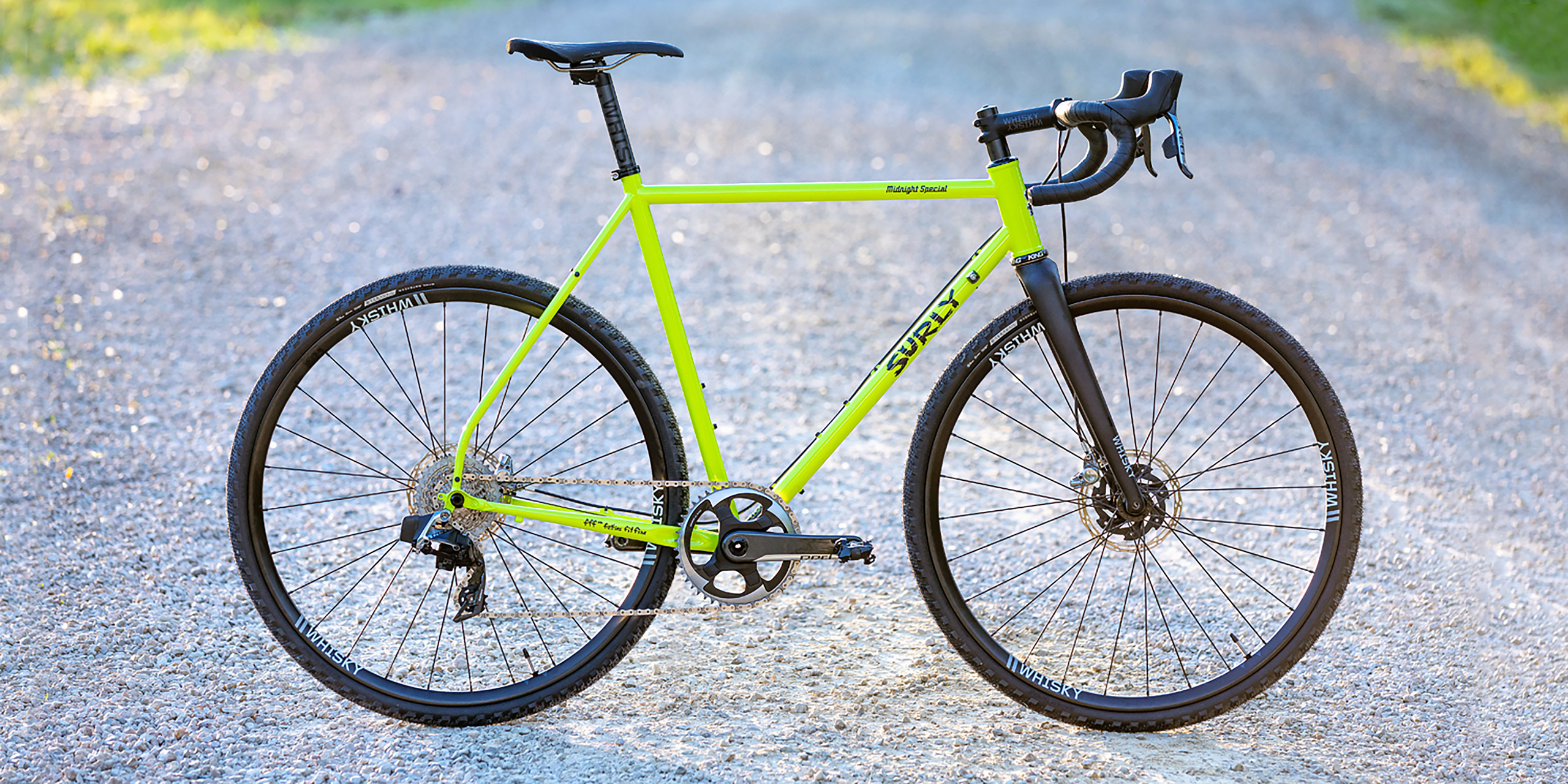 About Full Cycle
Since opening in 2008, Full Cycle has worked to connect youth experiencing homelessness with free bikes, tools, food, shelter, and whatever help they need. Full Cycle also provides them with jobs, including using bikes to collect and distribute donated food to youth and families in need. This money will help them employ and feed more people. Learn more about their mission here:
About the Midnight Special
Midnight Special is a Road Plus Bike that has
the goods to handle pavement, gravel, and
ill-conceived shortcuts. If you win, you'll choose your frame size and Surly will take care of the build kit. Here are some details on this Steel
of a Deal:
· SRAM AXS electronic shifters and derailleur
· Carbon wheels, fork, seatpost, and handlebars from Whisky Parts Co.
· Chris King Headset
· One-of-a-kind custom paint
Maybe you'll win the bike. Maybe you won't. Either way, your donation will help Full Cycle provide support, training, and meaningful work to young people experiencing homelessness here in Minneapolis.
Contest Rules
The "Full Cycle Bike Shop" drawing is being conducted Full Cycle Bike Shop, an enterprise of Pillsbury United Communities 501(c)(3) under the laws of the State of Minnesota.
All ticket orders must be received with full payment no later than 11:59pm on December 1, 2021. No purchase necessary to enter to win. A purchase does not improve your chance of winning.
To enter without purchase, mail a handwritten postcard to Full Cycle Bike Shop at: 3515 Chicago Ave, Minneapolis, MN 55407. Make sure to include (1) full name; (2) mailing address, including street address, city, state/district, and zip code (P.O. boxes not accepted); (3) telephone number; (4) email address; (5) date of birth. All write-in entries must be postmarked by November 24th, 2021 and received by December 1st, 2021. There is a limit of one (1) write-in entry per person.
Prize: One custom, one of a kind, Surly Midnight Special, value estimated at $7,000 for the winner.
Drawing will be held at Full Cycle Bike Shop within 5 business days of December 2, 2021. The winner will be determined by random selection.
Winner need not be present to win. Winner will be notified by via email within 7 days of the drawing, and will be posted on the Pillsbury United web page.
Prize winner is solely responsible for all local, state and federal taxes, title, transfer fees, license duties, insurance and all expenses incurred in claiming the Surly Bicycle. The prize winner understands, acknowledges, and agrees to hereby release and discharge Full Cycle Bike Shop, Pillsbury United Communities, Quality Bicycle Products, GBC., and any additional sponsors, their employees, agents, officers, directors and legal representatives and assigns from any and all claims, liabilities, damages, losses or expenses arising from or caused by the award of such prize, including, but not limited to the payment of any and all taxes that are due.
Prize winner agrees to allow Full Cycle Bike Shop and campaign sponsors to use their name and likeness in post-campaign promotions without additional compensation.
Prize must be claimed within 7 days of drawing. Any unclaimed prize after that date will constitute forfeiture and a new winner will be chosen subject to the same condition and timelines.
Full Cycle Bike Shop and their Boards of Directors, and its agents assume no liability for lost, late, misdirected, mutilated, incomplete, illegible, or entries without payment which will be deemed invalid and disqualified.
The decisions and rules of Full Cycle Bike Shop are final on all matters concerning the drawing.
The "Full Cycle Bike Shop" drawing is open to contestants world-wide, except for contestants in these countries: Argentina, Brazil, South Korea, France, North Korea, Iran, Cuba, Sudan, Syria, the Crimea region of Russia, Australia, China, Egypt, India, and the United Arab Emirates.
International winners may be responsible for additional taxes, duties, and shipping costs.