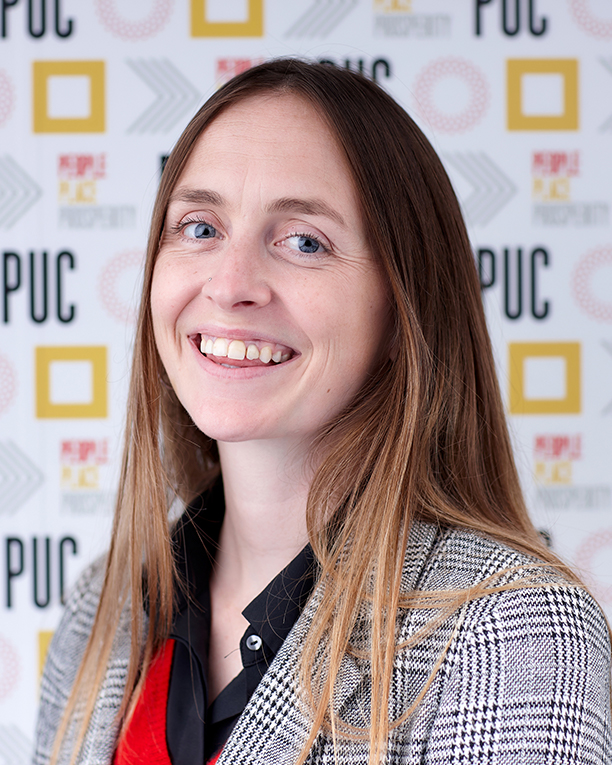 Head of Mobilization and Narrative Strategies
As Head of Mobilization and Narrative Strategies, Kenzie O'Keefe oversees a team of community-based storytellers, organizers, and policy-engaged leaders who work across the agency to develop media and strategic messaging to shift the overall narrative of people, place, race and poverty and galvanize action around policy issues crucial to equitable systems change.  
Prior to her current role, Kenzie launched the PUC's first policy, advocacy and civic engagement team in 2020, collaboratively developing the agency's first policy platform and leading its efforts to realize justice for our communities in government and other institutional spaces.  
Kenzie brought a background in design thinking, education, and innovation when she joined PUC in early 2016 to lead the launch of the agency's first community media social enterprise, North News. For over four years she worked with North Minneapolis residents, many of them youth, to ready their truths for publication and change the negative narrative about the Northside. 
Kenzie is currently completing an executive certificate in public policy from the Harvard Kennedy School. She was a 2019-20 Humphrey Policy Fellow at the University of Minnesota and holds a Bachelor's Degree in English and Journalism from Loyola Marymount University in Los Angeles.  
Kenzie was born and raised in the Twin Cities and currently lives in South Minneapolis with her wife and son. She's an avid runner, reader, and podcast consumer.
Contact Kenzie at KenzieO@pillsburyunited.org.